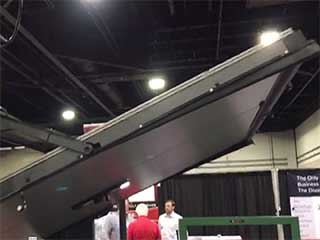 How do you feel about replacing your old garage door? Is the time right? What benefits will a new model offer? If you are asking yourself all of these questions, then this blog post is definitely a must-read.
Different Styles And Materials

It's true that sometimes painting the panels is perfectly sufficient for giving your overhead door a brand new look. However, when they are in poor condition and/or their design makes them look outdated, it makes sense to consider getting a new door that will match your home perfectly. The sky is the limit when it comes to design options.

Classic steel and wooden doors come in two main styles - carriage house and traditional. You can find manufacturers like Clopay and Amarr that will give you a variety of customization options. You can select the design of your new door, the finish, the color and the decorative hardware if you plan to have any. This is also a good time to consider other practical features, like insulating material, which will make spending time inside your garage much more pleasant.

Increasing Your Home's Energy Efficiency

You can easily get an insulated overhead door that will help reduce your energy spending, meaning you'll pay less for heating or cooling your home every month. An insulated garage door is a great choice for homeowners that want to provide maximum protection for their car during the winter months and for those that use their garage as a workshop, game room, or a personal home gym. Nowadays, there are garage door models that have an R-value that exceeds 20. These models often have two layers of steel, with the space between them filled with polyurethane foam.

Overall Performance Improvement

If one of the hardware parts of your door breaks down or becomes too worn it needs to be replaced. But what if all of them perform poorly and the panels are in bad shape? In that case, you should consider getting a new door installed. It will come with stronger and more durable components that are designed to perform more smoothly and quietly. They'll also be made to withstand environmental damage. You can expect the panels to be more resistant to damage as well. Our team at Garage Door Repair Danbury can consult you on the various options that are available to you and explain the benefits that each one presents. Once you've made your decision, we'll perform the garage door installation and make sure that you're completely satisfied with it.