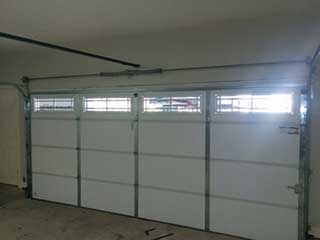 Getting stuck with a garage door that isn't opening is never fun. Most likely, if you heard a loud bang as the door slammed shut, the garage door spring broke. A problem like this presents more than a simple challenge or an annoyance. Broken springs are dangerous, and trying to carry out the replacement on your own is rarely a good idea. To avoid getting seriously injured or worse, let the Danbury garage door spring repair technicians near you handle the issue. It's important to utilize professional assistance with problems like these to prevent further exacerbation and potential risks.
Why Garage Door Springs Are Dangerous
Mostly, the risks involved in installing or replacing a spring are due to tension. The way garage door springs work, extension or torsion type is by counterbalancing the weight of the door panels with stored tension in their coils. This helps lift the panels and lower them in a smooth fashion and without much effort on your part or, if you have a garage door opener, on the motor's part. But because of this tension, broken garage door springs can be very dangerous. Even unbroken units, when installed or replaced, present this risk. Mishandling the installation can cause a spring to break prematurely. As it breaks, it can whip around or fly off, and you do not want to be standing nearby when this happens.
Fastest Broken Spring Repairs Near Danbury
It's important to emphasize the dangers and the fact that thousands of people get injured or worse every year from broken garage door springs. This is one task you should not go the DIY route and let a professional technician carry it out safely. When you need broken garage door springs replaced quickly, our Danbury repairmen can come to you on any given day. Let us know when you need assistance and we'll send the top spring replacement techs near you for a fast and cheap solution.