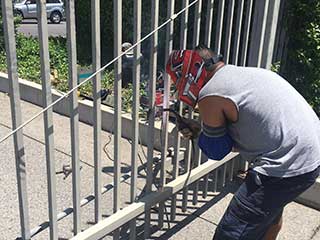 Electric driveway gates are an exceptional way to keep your family protected while ensuring that coming and going from your home can be done conveniently and easily. Unfortunately, like all electro-mechanical systems, these gates and their various components do have a limited lifespan. This lifespan is affected by a number of factors, including accidents, harsh weather conditions, extensive use and simply the wear and tear of old age. If your system starts experiencing some problems, our gate repair technicians can get it back to its proper working condition. We have all the necessary knowledge and skills to fix anything from the opener to the track, so you can count on us to find the perfect solution to any problem you're experiencing.
Broken Hinges and Track Repair
Your gate hinges are often the most underrated part of the system. This is probably due to the fact that they're small, but the task that they perform is a major one. They support and leverage the substantial weight of your swing gate and play their part in keeping it properly aligned. Unfortunately, the stress of their job can cause a gradual degradation of their durability, undermining their effectiveness. This could lead to misalignments, poor support and ultimately a complete gate failure. When this happens, be sure to have our technician weld repair or replace your hinges.
Fixing The Intercom System
An intercom system is a fantastic way to monitor who's getting in or out of your residence or commercial property. They also provide a convenient way to communicate with visitors before letting them in. Unfortunately, a gate intercom system can be fairly easily damaged by weather, accidents and old age. When this happens it can cause major inconveniences, and may even compromise the security of your home or business. Intercom repair is one of our specialties, and we can also help you find a new technologically advanced system and install it for you.
One Team To Fix Them All
Our team at Garage Door Repair Danbury can help you with any type of gate related service you need. From regular maintenance that will keep the system functional for a long time to emergency assistance and intercom installation. Call us today for more information.
Give our team a call if you need help with: