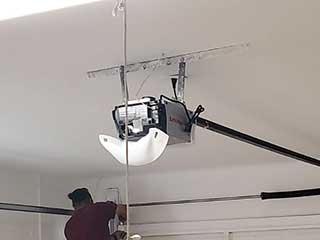 Repairing Garage Door Opener Problems
Whether it's a mechanical breakage or an electrical fault, the opener relies on all its components and parts to work properly. The garage door opener can stop working because of motor gears that break or a trolley that becomes disconnected. It can also experience hardware problems involving the chain drive, or other systems that it uses to move the door. Then you've got the electric opener logic board that can require troubleshooting due to bad wiring or other malfunctions. Whatever the issue, our nearby Danbury garage door opener repair service technicians can get to the bottom of it. We offer same-day solutions to opener troubles for all local areas. So when you have a problem and the garage door opener isn't working, you can get it fixed ASAP with a quick phone call.
Professional Opener Troubleshooting
Finding the source of problems can sometimes take longer when dealing with a garage door opener that doesn't work correctly. With different mechanical and electrical parts working in tandem, even a small malfunction can gum up the works. Troubleshooting LiftMaster garage door openers or models from other big brands helps in locating the problem's root. Then, applying the correct solution results in the opener getting back to proper functioning as soon as possible. Of course, garage door opener troubleshooting can take longer if you lack experience in repairing these machines. Luckily, you've got local garage door opener repair technicians near Danbury who can help you with any potential trouble. With services available 7-days a week, we always have someone ready to help customers when the opener gives them problems.
Openers are complicated electrical devices, and there are a lot of different types that require training to identify and deal with safely. Leaving it to the professionals will not only keep your door working better, but also prevent accidents.
Installing A New Unit
There's more to installing an opener than just hooking it up to your door and plugging it in. Most of the heavy lifting is done by springs; the opener needs to provide just the right amount of energy to get them moving, and too much or too little can lead to problems! This is why it's particularly important to match any opener unit with the weight and size of the door – it's important to confirm it comes with the right horsepower.
Considering Security Features
Most openers are responsible for locking the door in place, and units with remote control systems or wi-fi connectivity frequently come with additional digital security features to prevent the system from being hacked by wannabe intruders. Let our technicians recommend the right model for you. Whichever opener you choose, you can rest assured that everything will be properly installed and secured with our team.
Switching An Opener
If you need your opener replaced, Garage Door Repair Danbury has got you covered. Whether your opener has an internal electrical or mechanical problem that isn't worth fixing, or you just want something quieter and more reliable than your current model, our technicians can have your old unit safely removed and its replacement safely installed. Removing an old opener can be even trickier than installing a new one - one wrong move can see the springs snapping loose or other components of the system becoming damaged.
Just Keeping Things Going
From the motor to the gears, to the circuit boards, an opener should be looked at periodically to ensure that everything is working properly. If your opener is starting to slow down, if the mechanism is making foreboding noises, or if the sensors seem to be getting finicky, our diagnostic and maintenance services are only a phone call away. Even if your opener appears to be working just fine, you should still have it looked at periodically just to make sure things stay that way; a little trouble now could save you a lot in terms of cost and time in the future.
Give Us a Call
Whatever your opener needs may be, let us know about them and we'll tell you what we can do. Contact us today and our technicians will be on their way.
Danbury Garage Door Openers Installed and Repaired Fast
For quick solutions or a complete replacement, our team stands ready to provide any assistance you need. Want to replace a garage door opener with a new, upgraded model? We can offer you all sorts of Genie, LiftMaster, and other brand name options that provide Wi-Fi connectivity and other exciting features. Got a problem with the motor, the remote, or the logic board? Call anytime for same-day garage door opener repairs for all Danbury area addresses. Help stays available all week long, so you can always contact us for immediate assistance.
Common Opener-Related Questions
What is the best garage door opener?
The answer depends on different aspects, as well as on your specific needs. If we're talking about the brand, then Chamberlain, LiftMaster and Craftsman are great examples of companies that are known for their reliable and high quality products. Genie is another excellent choice. The type of drive system an opener uses will also help to determine whether or not it is the best choice for your needs. Chain drive units are known for their lower price and their strength, but also for their high noise output and maintenance requirements. Belt drive models are virtually silent, but they also tend to cost more than their counterparts. Screw drive units are very fast, and barely require maintenance, but they too are loud, and drastic temperature shifts can affect their performance.
How long do garage door openers last?
On average, this type of unit will be able to last for at least a decade, and possibly a decade and a half. Some will be able to last even longer, provided that they receive regular maintenance and that their moving metal parts are lubricated appropriately. You'd be surprised how minimal maintenance can contribute to the longevity of your garage door opener. Wear and tear is inevitable, but the rate with which different parts wear out can be significantly slowed down. It also helps to buy an opener from a brand that's known for its reliable products, such as LiftMaster, Chamberlain and Craftsman. Their models are bound to be more durable than those made by cheap counterparts.
Why is my garage door remote not working?
There can be a few possible reasons why this type of problem occurs; anything from signal interference to physical damage to the antenna or some of the internal components. Be sure to check the batteries first, as that seems to be the most common reason. See if your keypad or wall-switch are working, as the problem may actually lie somewhere else. It may also simply be a range issue. If none of these seem to be the reason, reprogramming the remote should be your next step.
You can also count on us for:
New Garage Door Installation
Part Replacement & Lubrication
Belt Drive Opener Installation
Broken Garage Door Track Repair