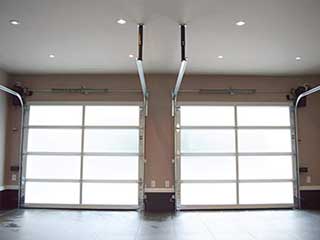 The springs are an essential part of every manual or automatic garage door system. They work extremely hard to ensure that the panels are able to move up and down without us or the opener having to exert tremendous amounts of force. Since these components have to support the full weight of your door and counterbalance it, their condition must be excellent.
Why Garage Door Springs Break
AS the hardest working parts of any garage door, springs go through lots of wear and tear during their lifetime. Each spring has an estimated number of cycles, but the more you use the garage door, the shorter that lifespan will turn out. Lack of proper maintenance for garage door springs will also bring them to a terminus sooner rather than later. The accumulated wear makes springs gradually weaker and weaker as time goes by. A broken garage door springs can fly around when it snaps, so you'll want to be elsewhere when this finally occurs. Or, you get the garage door springs replaced before they break. Either way, when you need a garage door spring repaired in the Danbury area, you've got a team of local technicians who can help. Our professionals can assist with broken springs and tension adjustment any day of the week.
Torsion And Extension Springs
There are two different types of these components that garage door systems use. Extension springs are thinner and weaker, which is why two are usually required, one on each side of the door. They work by stretching and contracting, and therefore are more susceptible to breaking prematurely, and are often attached to safety cables that hold them in place when they break. Torsion springs are thicker and much more flexible and durable. Usually, only a single unit is needed because of that. This type of spring is installed horizontally above the door and uses torque in order to help the door rise and lower. Because it twists and unwinds rather than stretch and contract, it is considered far safer.
Time Waits For No-one
Unfortunately, springs do have limited lifespans which are greatly affected by the stress under which they operate, and other contributing factors. Basically, the more you use them, the more wear and tear they'll go through, and the shorter they'll last. When they finally break, they will need to be replaced by professionals, and that's where we come in. Well, actually, we come in a little earlier than that, as we also have a special maintenance service that we provide that can reduce the strain of your springs and help them reach their full life expectancy.
Maintenance Will Take Care Of It
The springs are a key focus point of our maintenance service. After all, they are perhaps the most important parts of your door, second only to the panels. We will test their tension by lifting the door halfway to the open position and release it to see if it stays in place or moves up or down quickly and spring adjustment is required. We'll also make sure they are properly lubricated and that their coils aren't becoming deformed or worn.
Let Us Handle Everything
Although these components are incredibly important, they're also very dangerous, and therefore any spring repair or replacement that you may require must only be performed by professional technicians. Our experts at Garage Door Repair Danbury will be able to take care of anything you need.
Broken Spring Replacement – Danbury Garage Doors
Time becomes quite an important factor when dealing with a spring that broke. You see, often a garage door with broken springs won't work properly, and may even pose more dangerous should you try to use it regularly. You don't want to waste time with the car stuck behind the garage door, so replacing the broken springs becomes a paramount priority. For such emergency garage door repair situations, our spring replacement specialists stay available 7-days a week. With a quick phone call, you can have a local technician at your address with a new spring to install on your garage door. For the fastest garage door spring repair services near Danbury, get in touch with our experts. We provide same-day solutions to all types of spring problems. Thus, you'll never have to wait around for hours when a broken spring needs replacing.
A Few Common Spring-Related Questions
What should I do if my garage door spring breaks?
Dealing with a broken spring can be incredibly dangerous, so it's very important that you don't attempt to replace or even adjust it yourself. The broken spring will need to be carefully removed and a new unit will need to be fitted in its place. While it can sometimes be possible to repair the damage, it's usually much safer and effective to simply install a new unit.
How much does it cost to replace a broken spring?
The average cost of replacing a garage door spring is usually $79 - $275, and that includes the price of the new unit + the labor involved in installing it. Of course, the size of the unit and the complexity of the required work will be determinant factors when it comes to the ultimate cost. While that may seem like a lot, you need to first remember that springs can last for several years, and improper installation will significantly reduce their lifespan. Also, this type of job can be very risky, and you could get seriously injured if you try to do it yourself. Our technicians will be happy to help you with this potentially dangerous task.
How long do garage door springs last?
The average lifespan of these units is about five to ten years, but this can vary greatly depending on how often they are used. The more you use the door, the shorter their service life will be. Garage door torsion springs tend to last longer, as they are more flexible and durable, and can be lubricated to reduce some of their working strain. It's very rare for these units to break within a year.
Want more? Let us take care of:
Emergency Garage Door Services
Genie & Liftmaster Opener Repairs
Roll up Garage Door Maintenance
Overhead Door Installation