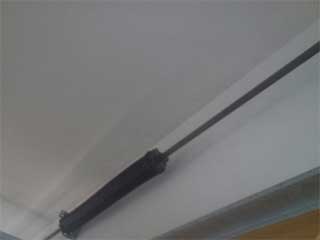 Garage door springs are perhaps the most important parts of your entire system. Dealing with them can be extremely dangerous, due to the fact that they are under a lot of tension. That's why they must only be adjusted or replaced by professional technicians. Understanding these components a little better is therefore very important, especially when you need to choose a new torsion spring for your door.
The Rust Resistant Option
Galvanized torsion springs are the standard option used for residential overhead doors. They are made of steel wires, and the process of galvanization involves dipping the metal into molten zinc. This is how it receives a coating which protects it from rust and corrosion. To ensure that galvanized springs work smoothly and have a long useful life, regular maintenance is required. It involves lubricating the coils to reduce the friction between them during the winding and unwinding of the torsion springs.
The Efficient And Durable Choice
There are also oil tempered torsion springs. The steel wire which they are made of has been dipped into hot oil. This is how their coils receive permanent lubrication. Even though oil tempered springs require less maintenance, they tend to leave thin dark residue on the door's panels so you will have to clean them more often. Generally, these components are best suited for garage doors that are frequently used throughout the day.
Specs and Lifecycle
Each spring has a lift vector which determines how much force it can hold. Since the component has to hold enough force to counterbalance and raise the panels, its lift must be selected based on the size and weight of the door. At the same time, the lift is determined by the length, inside diameter and wire size of the unit. This is very technical and quite complex, but you can rely on our team at Garage Door Repair Danbury, to help you make the right choice. The lifecycle of these units is an estimation of how many operational cycles (one full opening and closing action) a particular unit can complete before it breaks. Most torsion units have an estimated life of 10,000 cycles, while extension springs only reach about 5000. If you'd rather deal with spring replacement less often, or if you need some other type of adjustment or maintenance service, you need to reach out to our team.