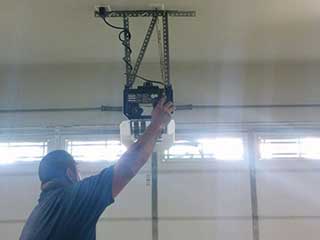 An electric garage door opener is a welcomed addition to any household. All you need to do to open your door is push the button on its remote control or keypad. Some brands, like LiftMaster, Genie, and Craftsman, even have models with Wi-Fi compatibility. That means you can operate and monitor them with your own phone. Obviously, the added convenience afforded to you by this type of device is remarkable. But what if your opener refuses to work? Well, you'll be forced to open your door manually, for once. You may also not be able to use it at all.
Start With The Controls

Given that modern chain, screw and belt drive openers are quite reliable, the first thing you need to do if the motor refuses to start is to try all the controls. Usually, the reason for the problem is that one of these devices has failed. More often than not, it is the remote control. Check the wall switch to make sure it's working first, then move over to the remotes. Whether you have a clicker designed to stay attached to your rearview mirror or you use a mini remote that stays on your keychain, you need to check the battery. If it doesn't work with a new battery, then it should be fixed or replaced. Remember that every new clicker or remote needs to be programmed in order to properly communicate with your opener.

Check the Hardware and Motor

If none of both the wall switch and the remote controls fail to work, then the problem may come from the hardware. Listen closely to hear if the motor is running. If it drones as usual, but the door stays closed and the spring system is intact, then you probably have a broken trolley on your hands. This is the component that moves along the rail to guide the door during opening and closing process. If there's a grinding noise coming from the motor, the main gear, which connects it to the drive, probably broke and should be replaced. This issue is not uncommon given that the gear is usually made of plastic.

Common Electrical Issues

If the motor is completely silent, there are three possible causes to the problem. The unit may not get power. This could be the result of a damaged cable or electrical outlet. The third possible cause is a faulty circuit board. This is another issue that rarely occurs but isn't impossible. The circuit board usually fails only due to power surges, which are obviously rare. Whatever the case may be, professional assistance will probably be required. Get in touch with our experts at Garage Door Repair Danbury and let us handle these issues for you.