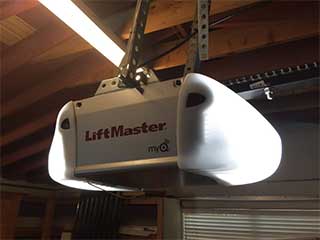 We live in an interesting time where technological advancements in all the different fields are moving at such an astonishing rate that it can be difficult to keep up sometimes. The use of Wi-Fi and Bluetooth technologies in various appliances has added an unprecedented level of connectivity to our world, and the good news is that there seems to be no sign of things slowing down. It is only logical that these developments should permeate the world of garage door openers as well. We've collected some examples of the most interesting advancements in connectivity that have given the field of openers a bit more of an edge so that you can take advantage of some of these awesome features.
The Remote Controls Of Yester-Year

The openers that we have all come to know and love have (for the most part) always been operated by finicky old garage door remotes or clickers that break easily, are often unresponsive and have to undergo constant maintenance to work consistently. Every owner has a story or two about how they lost their remote or had to wait outside because their flimsy little clicker wasn't working correctly. It is for these reasons that so many people have been turning to new technologies which make use of existing connectivity infrastructure like Wi-Fi and Bluetooth.

Get a Bluetooth Enabled Device

A receiver is a device attached to your garage door opener, and is normally the connection point for remote controls. These devices relay the information sent by a clicker to your opener so that it can do its job. Typically these devices have always paired up with remotes, but things are changing. These days you can get a Bluetooth receiver that can connect and pair directly with a smartphone or a tablet using an app. This will allow you to operate your door from anywhere in your home, as long as it is in range, without needing a physical remote control. Security is never an issue since the mobile devices need to be paired manually with the receiver, meaning that only the people, whom you want to gain entrance, will be able to use the door this way.

Wi-Fi Is The Way Of The Future

Beyond the already impressive Bluetooth receivers, you can also get Wi-Fi ones that will extend the range and capabilities of your opener. These devices use the receiver to connect to your home's network (via a modem or a router) or directly to your mobile devices. This solution gives you all the benefits of the Bluetooth receivers, but with one major extra perk. With a Wi-Fi opener receiver, you can operate your door from literally anywhere: the bathroom, kitchen, your work, or from Bora Bora while you're on holiday. As long as you have a paired mobile device and an internet connection, you'll be able to use from anywhere in the world.
Some models can also come with video and audio surveillance technology so that you can keep an eye on your home no matter where you are. Need to let the delivery guy in when you're not home? No problem. Get one of these receivers and you'll be able to do it without any problems.

Replacing Those Old Remotes

A lot of people might ask why they would need something like these innovative technologies. Well, for starters, they add a great deal of security to your home. Just think of how many remotes get lost or misplaced on a daily basis in the US alone. Each one of those is as good as a key left in the street, waiting to be picked up by a stranger who can use it to gain access to your home. Beyond that, there is no need to constantly replace broken remotes or change their batteries, meaning that you will save money in the long run. Ask our professionals at Garage Door Repair Danbury about upgrading your opener to something a little more suited to the 21th century.