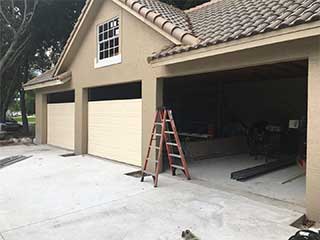 It's time for garage door maintenance again (or for the first time) and you're anxious and somewhat annoyed. The reason is that you have to spend your free time doing something not particularly fun. Unfortunately, maintenance is required if you want your garage door to stay in an optimal shape. Many homeowners aren't particularly diligent and make mistakes which can lead to serious trouble. We're here to prevent you from doing the same.
Test The Springs

This is a simple task, but if you don't do it, you risk having an unbalanced garage door. The springs support the weight of the panels and help them move. That's why, if their tension isn't optimal, it can exacerbate their wear and tear, and have an adverse impact on the opener. The test you need to perform is simple. It involves disconnecting the opener and then lifting the door until its halfway open. If the door rises or drops down, spring adjustment will be required. Keep in mind that there is a major safety risk involved in this task. It requires a high level of precision too. That's why you should leave this job to our experts.

Check The Cables

The cables don't require lubrication or adjustment so why even bother looking at them, right? Wrong. Frayed cables will be easily noticeable, and they will need to be replaced before they break. You should also examine their drums to make sure they're looped over them correctly. Of course, cable replacement is another potentially dangerous task, and you should leave that to our team as well.

Test The Opener Force Limit

Most people test the opener sensors when performing garage door maintenance because they realize the safety risk involved in neglecting to do this. However, they fail to do the same with the opener's closing force and this is a huge mistake. An inaccurately set force limit can lead to faster wearing of the metal components and poor performance. The good news is that you can test the opener closing force in a similar way to the sensors. Just place an object under the open door and ensure that it doesn't block the safety sensors. Now close the door. If it hits the object hard and reverses, the force limit needs to be adjusted.

Use The Right Lubricant

Homeowners often go for silicone-based lubricants for their garage door hardware parts. However, it doesn't work too well because its texture isn't soft. A light household lubricant is usually a fine option and an affordable and easily accessible one too. However, given that winter can surprise us with below freezing temperatures, it's wise to opt for a lithium-based product which won't harden when that happens. Remember to properly lubricate the springs, the hinges and the rollers, if they aren't nylon coated. If you have a chain or a screw drive opener, you can lubricate the drive as well.