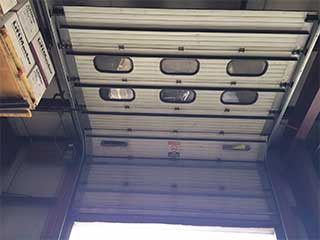 There is no doubt that an automatic garage door is a superb addition to any household. This type of system makes access easier, enhances the security of your home and, if installed correctly and maintained properly, can even raise the value of your property. The trouble is that like with any investment, things can sometimes go wrong. Here you will find some of the most common problems that can occur, sprinkled with some advice on how to best deal with those issues.
Minor Or Major Issues
The first thing that comes to mind when thinking about what can go wrong with a garage door is accidents caused by motor vehicles. You would be surprised how often a person backs into their door, damages or dents the tracks while trying to force their car out, or leaves the parking break down, causing their car to roll forward into the closed door and its panels. These minor mishaps can have some devastating consequences. If something like this happens to you, there is no need to panic. If the door itself is damaged, you probably won't need to change and repair the whole thing, often enough you can opt for individual garage door panel replacement, meaning that you only have to deal with the damaged sections, and not blow all of your money on a new door. If the tracks end up bent then your system probably won't be able to work without the door coming off the tracks. When this happens, calling our professional technicians out to replace or fix the problematic track is the best way to go.
Weathered From The Weather
For people who live in areas with harsh weather conditions, extra care is sometimes needed in order to keep your door in a good shape. Untreated wooden panels are subject to rot in damp climates, which will significantly lower their integrity, as well as their curb appeal. If you have or want a wooden garage door, remember that it is essential to apply it with paint or varnish on a regular basis to preserve its condition. Steel doors are no different, as they can sometimes be damaged by the onset of rust. This will not only damage the door over time, but it will also make it unsafe to use. Not only the door is capable of rusting, in fact. Any of the system's metal components can also be susceptible to this. Keep a close eye on your springs, hinges, and rollers, because a bit of rust on these components can lead to some very dangerous failures.
Did Somebody Say, Springs?
These components are vital to the operation of your door, and they are under enormous strain on a daily basis. This tension will eventually cause minor cracks and deformations in their coils, which would be a telltale sign that the springs are on their way out. When this happens, it is unwise to wait for them to snap before getting them replaced. If you find any evidence of cracking, then you need to opt for professional spring replacement right away.
Dealing With Galvanic Corrosion
The various metal components in your system are not only vulnerable to rust. Depending on which other types of metal they are installed with, they can also be damaged by galvanic corrosion, which is a chemical reaction that occurs when certain metals come into contact with each other. Keep an eye out for any signs of this, because it too weakens the strength of the components involved.
This Is What Experts Are For
Remember, even when things do go wrong, there is no reason to assume that the dealing with the problem will cost you an arm and a leg. Of course, the more you neglect your system, the worse the damage will become, and the more fixes will be required. Contact our experts at Garage Door Repair Danbury to get your door professionally fixed quickly and safely!