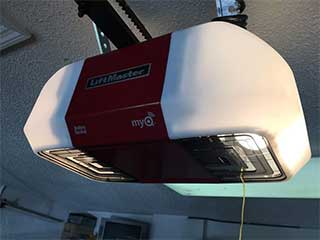 It's time for garage door opener replacement and you've got some important decisions to make. The buying process is never simple, given that you are buying a system which you will be relying on a daily basis for the next 7 to 10 years. That is why you need to make sure you're taking several important factors into consideration. We summerized a few of the main ones to provide you with some useful information.
Decide on the Type

The main thing you can categorize openers by is their drive system. There are three main types, and each one has its pros and cons. The chain drive is extremely durable and reliable but is also very noisy. The belt drive works similarly but is incredibly quiet. Of course, it's also more expensive. The screw drive is the most recent of the three. Its major advantage is an improved door opening speed. Since it also uses fewer moving components, it also requires far less maintenance to stay functional. However, this type of drive system doesn't deal with drastic temperature shifts (which are not uncommon in Connecticut) all too well.

Consider The Brand

It makes sense to focus your attention on models from leading opener brands as they are able to guarantee better quality and usually have warranties and special features that other off-brand products don't. It is worth noting that even though giant manufacturers like LiftMaster, Genie, and Craftsman have patented features, they are usually based on the same types of technology. That is why you should focus more on the performance of the different models and on what special things they have to offer compared to their counterparts.

Check the Motor and Its Performance

Nowadays, you can often choose between openers that use either an AC or a DC motor. The AC ones are sturdy and pull off dependable performance. The DC ones offer some advantages such as a quicker and smoother start. Some are also more energy-efficient. Keep in mind that when it comes to the performance of a garage door opener motor, you must choose a unit that is powerful enough to operate your door. That means it will need to be able to produce a certain amount of horsepower. The heavier the door, the higher it will be.

Evaluate the Security Features

Rolling code technology, which changes the access code each time you use the remote control, is now a common feature for most openers. You can also consider some advanced options such as a digital lock function. This will disable the opener and prevent people from using it while you're away. Perhaps the trendiest feature of the latest years is the WiFi and smartphone compatibility, which enables you to monitor and use your electric opener and to open and close the door remotely, via an app.

Pick the Accessories

Decide on what accessories you would want to use with your new opener. The mini remotes can help you boost security as members of your family can easily keep one on a keychain and carry it around safely. A wireless keypad is another useful accessory that will allow you to enter your garage when you don't have a remote with you. You can also consider getting motion detection lights and a backup battery system.
Count on our team at Garage Door Repair in Danbury to help you find the perfect model for your specific needs. We'll then proceed with the opener installation process and make sure everything is working correctly.